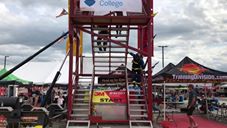 Sarnia Fire Rescue Kicking Butt And Taking Names At The FireFit Championships !!!!
Congratulations to Sarnia Fire Rescue for crushing the competition at the FireFit Championships -Western Ontario Regionals.
Check out Sarnia Fire Rescue's Ian Van Reenen take first place!!!!
Firefighter  Ian Van Reenen was 1st overall. 
Firefighter  Minty was 5th overall and 2nd in over 40. 
Firefighter  McCormick was 2nd fastest rookie.
and Sarnia Fire Rescue was the fastest team! ‬
If you want to see more from the FireFit Championships check out the  Sarnia Fire Rescue facebook page!