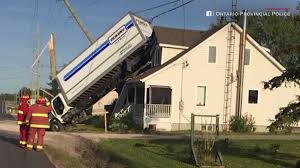 Seriously! …Moving Sucks!
The OPP have charged a 24-year-old man from Toronto with careless driving after the truck he was driving struck a hydro pole along Highway 64 approximately 60 kilometres south of Sudbury.
The truck was launched in the air before coming to rest on top of a house! 
Check out the video that was captured by Denis Lefevbre and posted to Facebook by Sharon Gauthier.
OPP say they expect that distracted driving played a role in the crash…..
what ever happened, it just goes to show that moving sucks!!!!